The 15th Annual Webby Awards Live Stream
How to Watch the Webby Awards Live Online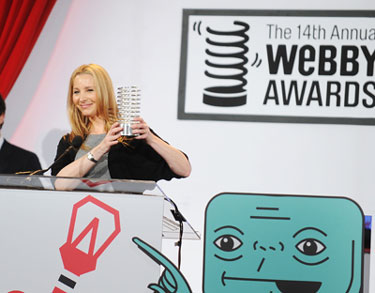 We may already know which nominees are taking home the Webby award in the favorite celebrity (Team Coco), weird (Awkward Family Photos), and humor (Funny or Die) categories, among others, but wouldn't you like to see the five-word acceptance speeches live?
Hosted by Lisa Kudrow, the 15th Annual Webby Awards ceremony takes place in NYC tonight with stars like Zach Galifianakis, Dan Savage, LCD Soundsystem, Daniel Radcliffe, The Gregory Brothers, and more expected to make appearances, but you don't have to have a ticket to the gala to see it all go down. In fact, there are a few ways you can watch the big show live starting at 8:30 p.m. EDT without even a TV set. Find out how below!
Facebook — Facebook is hosting a live stream of the event starting at 8 p.m. EDT, which includes the celeb-studded

red carpet

arrivals.
Mobile — You can download the free official Webby app for your iPhone and iPad, and watch the events live on the go!
YouTube — In case you miss the aforementioned live streams, YouTube will be providing plenty of clips for you to see at your leisure after the show.