Want a tablet to surf the "Net," but don't want to drop $500 for the privilege? Archos has your back. Announced today, Archos will be rolling out an 8GB $200 tablet called the 70b starting in January. It will come stocked with the Android 3.2 Honeycomb OS, a capacitive (1024 by 600 resolution) touchscreen, a 1.2GHz processor, and 512 MB of RAM.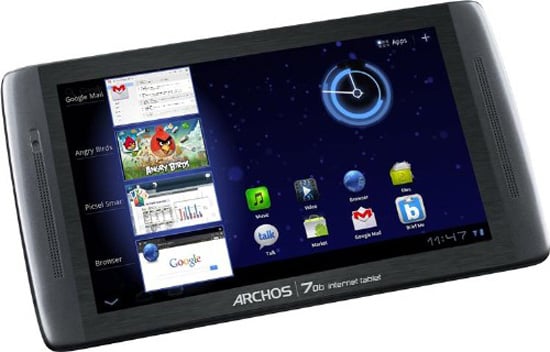 These specs are far from some of the top tablets on the market today, so you might find that this Archos tablet will run a lot slower than your Galaxy Tab or iPad, but you will have access to the Android Marketplace (and over 300,000 apps), and HDMI out so you can screen movies, games, and pics on your big screen at home.
The Archos 70b could very well be a great starter tablet for kids, folks on a budget, or those who just want to use it to surf the Internet at home or on the go. Hopefully the 70b will be on display at next month's CES convention so we can see how this thing really moves.