2011 Coachella Reviews and News
5 Awesome Unexpected Things to See at Coachella
This weekend, I celebrated alongside thousands of others at the three-day Coachella Music festival. Held in Indio, California, it's one of the largest in the US with around 226,000 in attendance last year. This year, Intel sponsored my trip there — taking care of my accommodations, transportation, and nourishment — so that I could check out the Creators Project: a joint venture between Intel and Vice to promote independent artists who use technology in their art. I'll be talking more about the project in the next few days, but first: a few awesome things I wasn't expecting to find at Coachella.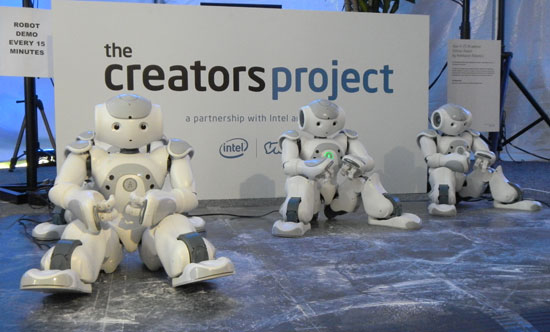 Dancing robots and video games — Thanks to the Creator's Project, we were treated to home brew video games and 3D art. One artist built a computer program that allowed these robots to perform a dance routine in perfect unison. Check out the video!
A roller rink — Off the main drag of the main stage, we found a fun carnival tucked in with the Coachella campground. There was a full on roller rink (BYOS — bring your own skates), fun seesaws, swings, and an arcade. Be sure to bring lots of quarters if you ever go!
See the rest of the list after the break.
Art — I captured a few of the beautiful art pieces in yesterday's slideshow, and there were many more. Huge sculptures in the shape of arachnids, big tent-like rest areas, and a massive sound proof cathedral that let you softly listen to music when you stepped into beams of light.
Great bathrooms — Yes, there are plenty of disgusting porta potty's, but lurking around the side of the main bathroom row are some fantastic working trailer restrooms. Featuring five private stalls, seat covers, flushing toilets, running water, and soap (soap!), these bathrooms are worth hunting down.
Air conditioning — You may be in the middle in the desert in 100 degree weather, but there are ways to pump in the cool air. Find a closed tent (the Creator's Project tent and the aforementioned trailer bathrooms for example) and you can literally chill out between your favorite shows.