2014 Lexus IS Features
Blind Spots: No Longer a Driver's Worst Enemy in the Lexus IS
Don't text and drive, but do tech and drive. We got behind the wheel of the new 2014 Lexus IS, which showed us how technology is making cars safer than ever. The biggest takeaway? Blind spots and backing up are no longer a driver's worst enemy.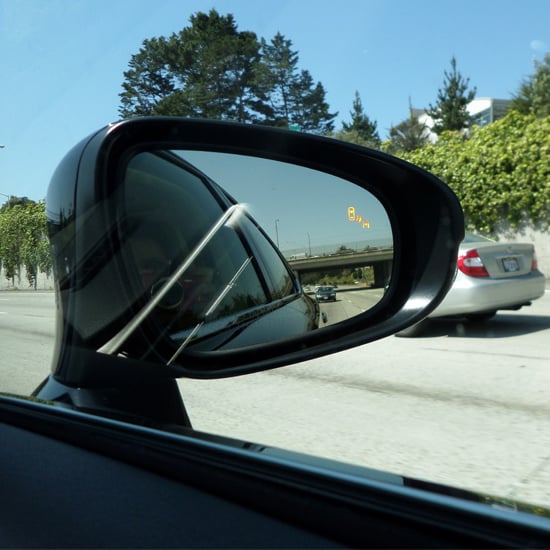 Radars and intelligent cameras scan the road all around the Lexus IS, giving road warriors an extra set of eyes in hard-to-see areas. The sports sedan, which arrives this Summer, comes with a lot of bells and whistles, including the most comfortable seats we've ever sat in, subscription-free traffic and weather information, and a crazy-looking spindle grill — but it was these advanced safety features that caught our eye:
Blind Spot Monitor System — Vehicles in adjacent lanes are detected using what's called a "quasi-millimeter wave radar," which sends out electromagnetic wavelengths to see if an approaching car is getting too close for comfort. As we cruised along the highway, an icon in the left and right rearview mirrors lit up every time another vehicle zoomed by. When the turn signal is activated, the mirror indicator will blink to catch the driver's attention.
Rear Cross-Traffic Alert — The same "quasi-millimeter wave radar" technology is used to sense oncoming vehicles when backing out of a parking space. But in addition to seeing the blinking mirror icon, an approaching car will set off an audio alert.
Lane Departure Alert — Getting behind the wheel when you're tired can be just as dangerous as texting while driving. While the Lexus IS can't wake a driver up if he or she is dozing off, the sedan does have a lane departure alert system, which uses a front-facing camera on the dashboard to recognize where the lane begins and ends. If the vehicle appears to be deviating from the lane, then an icon flashes on the dashboard right in front of the driver and sounds off an alert tone. That same camera can detect oncoming cars at night and dim the high beams if they are already activated.
You know to drive cautiously, but it's nice to know that when our own senses fail, technology will be there to step in. The 2014 Lexus IS, which is considered an "entry-level luxury vehicle," is available in three different models: the IS 250 (starts at $35,950), the IS 350 (starts at around $39,465), and the IS 350 F-Sport RWD (around $50,000). Let us know if you'll be behind the wheel of the new Lexus IS this Summer, and check out the sporty, all-seeing sedan after the break.