3 Sites To Find Info About Your Birthday
3 Sites That Add Some Fun to Your Birthday
My guy's birthday is tomorrow, so I can't help but have birthdays on the brain — plus, I love a good excuse for a party! If you're a birthday fanatic like I am, check out these three sites for a fast, easy way to find fun info about your date of birth. Or check 'em out before heading to a friend's birthday party for a nice, long list of birthday-themed conversation starters.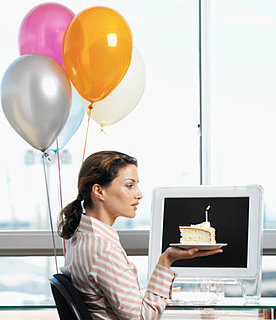 What song was #1? Do you know which song topped the charts the day you were born? A feature on This Day In Music will tell you! Just enter your date of birth (or any other day you're curious about) and the finder will tell you what songs were on the top of the US, UK, and Australian charts. (My birthday "theme song" is "Don't You Want Me?" by Human League.) There's even one-click access to buy a framed LP (or CD, if you or the intended recipient is searching for a chart-topper after 1992).
Keep reading for the two more fun birthday sites.
What happened that year? For a fun answer to that question, check the aptly-named What Happened In My Birth Year for a slightly snarky story of what happened that year. From top movies and books to Oscar-winning actors and actresses, top news stories, Nobel prize winners, and other pop culture information, the site types out a comprehensive story of your birth year. One warning: it takes a while to spell out the full story, so enter your year, and let the page load for a few minutes if you're not into reading moving type.
Who else was born on that date? For a comprehensive list of famous people with your birthday and major events that happened on that date, just search for the month and day of your birth on Wikipedia. The entry will list celebs and other persons of note with your date of birth, listed by year. You can also do this for a quick snapshot of important events during the year of your birth.