3D Photo Apps
6 Stereostopic Photo Apps For 3D Snaps That Pop
Dresses, cafes, and our favorite dinosaur movie . . . no stone is left unturned when it comes to 3D technology. The 3D revolution has begun, and you can get in on one of the biggest trends in tech without all the complicated computer modeling or an expensive printer. Bring your photos to life with 3D camera apps that'll make your snaps pop!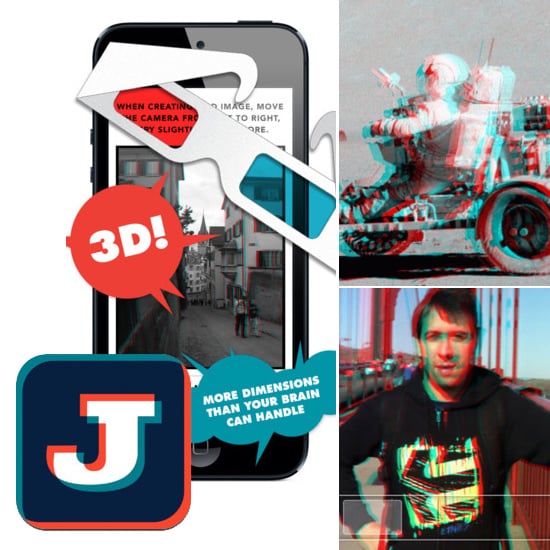 Most of these apps use stereoscopy, a technique that creates the illusion of a three-dimensional image using two two-dimensional images. Check out these eye-popping photo apps for iOS, and share your best 3D snaps with us.
Jittergram (free) — This is probably our favorite app of the bunch, because it has the best UI and the fastest processing time. Make a 3D stereogram, GIF, or stop-motion animation, and then share through Twitter, Facebook, or email.
3D Camera ($2) — The app's camera has advanced alignment tools to ensure anaglyphs are all lined up. There are also advanced controls for stereogram alignment dots, image size, and color. Create wigglegrams, GIFs, and anaglyphs, and then share on Facebook or Twitter.
3D Photo Creator ($2) — In addition to having 3D photo creation tools, this straightforward app shows you how stereoscopy works.
Check out three more 3D photo apps after the break.
Scubo (free) — This app will capture 3D photo and video. It works seamlessly with Scubo Cam, an accessory to take higher-quality 3D images. Scubo's standout features are the built-in filters for Instagram-ready 3D pictures.
i3D Steroid ($3) — The app's interface isn't as polished as some of the other ones we've listed, but it has everything you need to create a stereoscopic image.
Stereogram (free) — The app doesn't create true red/cyan stereograms, but it does give photos depth by overlaying two frames. There's also an option to make multiframe GIFs.