3D Playboy Issue Goes on Sale Friday
Your Daily Playboy Update: Now in 3D!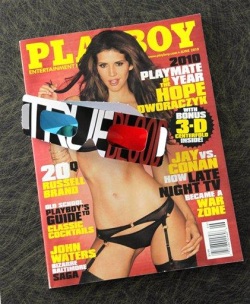 Yesterday we learned that Playboy will be launching a (confusing) "safe for work" website called The Smoking Jacket to potentially help reverse its $1 million deficit, but today brings big news of the next gimmick: this month's issue of Playboy will feature a 3D centerfold.
Granted, you can't use your personal and designer RealD glasses to view the page, but you will be provided with a pair of anaglyph True Blood-branded paper specs to use at your leisure. In case you're curious, the issue hits stands on Friday.