3D Printed Shoes
3D Couture: Shoes Printed For Your Feet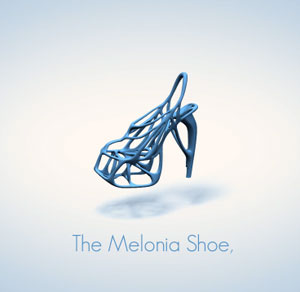 I'm inspired by fashion in general, but when you add a geeky twist, I get really excited. My latest obsession? 3D printed shoes. You know 3D printing — it's where you "print" an actual object layer by layer. You can make furniture, household items, nearly anything with a 3D printer.
Now, designer Naim Josefi has created a pair of sustainable 3D-printed shoes that fit the wearer perfectly. How does it work? A scanner analyzes your foot, then the dimensions are sent to a 3D printer to craft your 3D "couture" kicks. It seems you'll need some strong ankles to prevent from pulling a Gaga in these heels, but it's a pretty impressive process that allows you to enjoy the perfect fit (no more band-aids or blisters!), while you save the planet at the same time — the shoes are made from sustainable materials.
Still wondering how the heck these shoes are made? Check out the demo video after the break.
Melonia shoe from Naim Josefi on Vimeo.