3D Printing in Space
3D Printing Takes to . . . Space!
While much of NASA's public events are currently postponed due to the government shutdown, a new development is under way that could save future space missions big money: 3D printing. By sending a 3D printer to space, astronauts aboard the International Space Station could have the luxury of creating parts and tools as needed, in what could be life-or-death scenarios.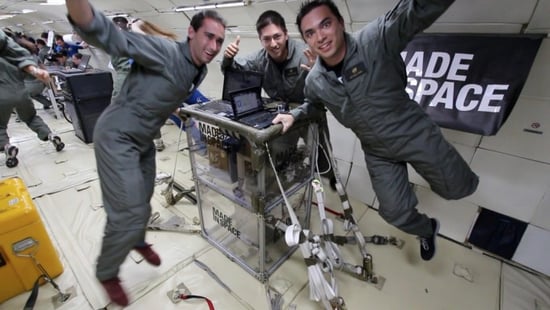 Astronauts working in zero gravity have had to get creative with the limited supplies that can be ferried on a spacecraft before, even using the great MacGyver tool, duct tape.
But a space crew isn't going to be using any ordinary 3D printer that at-home early adopters can get their hands on. The 3D printer worthy of NASA is being commissioned by space start-up, Made in Space. The company has been working with the space since 2011, when it was first awarded a two-hour suborbital flight to test the printing and hardware effects of the microgravity conditions.
Since confirming the 3D printing process will work in zero gravity, Made in Space now holds a contract to build the first 3D printer designed specifically for an off-Earth environment, which is scheduled to be launched to the space station in 2014. Now, in the name of science, can the astronauts please gather (zero gravity hair a-flyin') for the first space 3D portrait?