3G Kindle With Ads
Amazon Offers Up $164 Kindle With "Special Offers"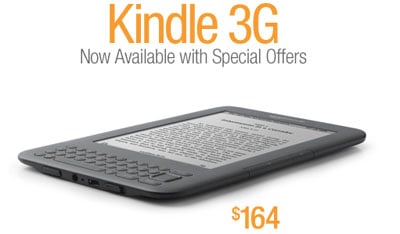 Just after Barnes & Noble announced its newer, smaller, touchscreen Simple Touch Reader yesterday, Amazon introduced its latest offering — a cheaper, ad-supported 3G Kindle. Just like the WiFi-only version it released last month, this third-generation 3G Kindle will be $25 off the regular price, and comes with specialized ads and sponsored screen savers.
Truth be told, it's the same Kindle you know and love, just a bit cheaper. Do you think this will sway ereader shoppers from Barnes & Noble's latest offering?