5 Reasons Why You Should Get an iPhone 4
5 Reasons You Need an iPhone 4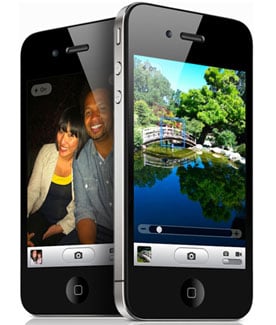 Now that the iPhone 4 has been unveiled, demoed, and photographed, you're probably wondering if you should throw down the $200 — $300 it takes to bring one home. Apple calls the iPhone 4 the biggest leap since the first iPhone — and I'd have to agree. Here, five reasons you should snatch one up come June 24. Stay tuned for the rebuttal, when I offer up some worthy iPhone 4 alternatives.


Screen quality — Apple introduced the new LED-backlit Retina Display on the iPhone 4, which brings the clearest picture ever on a smartphone. Coming in a 326 pixels per inch (four times the amount of the 3GS), it delivers a crisp and vibrant picture without the fuzziness of individual pixels.
iOS 4 — The rebranded operating system will come standard on the iPhone 4, allowing you to multitask, organize apps into folders, get all your email in one inbox, and read books with iBooks among (many) other things to save you time and patience.
See the remaining three reasons to get an iPhone 4 after the break.
FaceTime — The iPhone finally gets video calling! Seen in action at the WWDC conference, FaceTime is crisp, clean, and on point when using a WiFi connection, and with either of the iPhone 4's front-, or rear-facing cameras.
Gyroscope — All those games in the App Store will be even better with the iPhone 4's 3-axis gyroscope. Add on the already-included accelerometer, and your phone will have superior motion-sensing capabilities — acceleration, gravity, angular velocity, and rotation rate — which equals a better gaming experience, and greater precision when you play.
Photo and video features — The iPhone 4 comes with two cameras — a front-facing VGA camera, and rear-facing wider-angle 5MP lens — which both work for photos and video, while the rear-facing camera is accompanied by an LED flash, shoots HD quality "tap-to-focus" video, and comes with a backside illumination sensor to shoot quality, low-light videos. Not only that, but you can buy the $5 iMovie app on your phone to edit and score your on-the-go vids, then upload to YouTube or your favorite social networking sites. This could change your life — your bag will be so much lighter! One gadget to rule them all, indeed.
Want to see what else the iPhone 4 is packing? Check out our live WWDC coverage, and the iPhone 4 product page.