6 Reasons Why Caprica City Could Be Seattle
Is Caprica City Really Seattle?
The new Syfy series Caprica is quickly becoming one of my favorite shows on TV. Not only is it well written, but it gives you that warm familiarity of Battlestar Galactica without stepping all over its toes. If you know your Battlestar history, you'd know that the series starts off on the planet Caprica, then travels many light years away to eventually find the Earth we know today. So why are there so many striking similarities between Caprica City and modern-day Seattle? Could it be that Caprica City is actually Seattle in an alternate reality? I have a few examples of this reasoning, the most obvious is the iconic Pike's Place Public Market sign we keep seeing during the show's cut scenes. Where else in the galaxy would you find that!?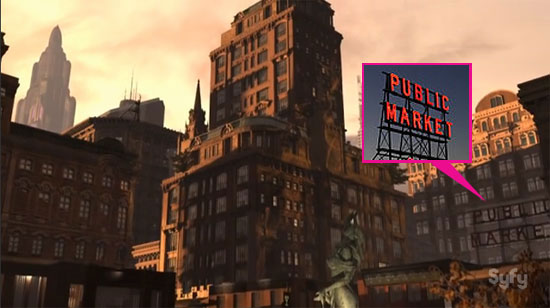 I've done some digging and came up with five more reasons why I think that Caprica City is based on the Northwestern town . . . or actually is Seattle somewhere in time. Find out more after the break.


Daniel Graystone is Bill Gates: Both men are mega-successful when it comes to leading the technology industry — Daniel Graystone's Holoband is used around the world, but finds itself being compromised too often by hackers. Such is Bill Gates's Windows PC.
Extravagant houses on a lake: If you've ever taken a drive around Lake Washington just outside of Seattle proper, you'll find huge mansions overlooking the lake, surrounded by lush pine trees. I think Daniel lives somewhere between Madrona and Mercer Island.
Monorail system: Seattle is known for its downtown monorail system, which was built in 1962 for the World's Fair. Since then, the city has attempted to expand the system to travel south to the nearby SeaTac airport. Unfortunately, the project is incomplete — maybe they need a Daniel Graystone to help out with the final stages?
Bustling shipyard: In the latest episode, Lacy goes to meet Barnabus at a shipyard, which means that Caprica City would have to be near a large body of water, able to accept large ships and shipments — just like Seattle.
The sports team: The Caprica Buccaneers have a nickname: The C-Bucs. When Thomas Vergis approached Daniel Graystone about buying the "C-Bucs," I swore he said "Seahawks," Seattle's football team. Coincidence? Maybe.
What do you think — are there enough similarities to convince you that Caprica City really is Seattle? Or even better — what Seattle could look like in the future?
Photo courtesy of SyFy