6 Ways to Avoid Being Hacked on Twitter, Facebook, or Any Other Website
How-To: Not Get Hacked by Twitter Phishing Attacks
Twitter was hit with another phishing attack this week. Just last night in fact, I got this message in my Twitter DM inbox. It's from a person I know, so I clicked on the link only to be brought to a Twitter-like login screen. I knew I was already logged in so I quickly clicked away and notified my friend that she had been hacked. Earlier this week Twitter was hit with a similar phishing scam, which after gaining your login deets, sent out mass messages about herbal Viagra. I'm sure your friends would have loved that!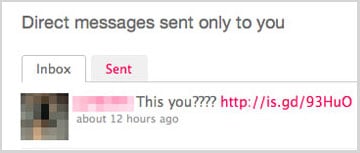 If I had actually "logged in" again, my Twitter account would have been taken over by hackers (most likely hacking "bots"), then used to send out the same message to all of my followers. Spam messages could then be sent out in epic proportions. Don't get scammed by these (or any) hackers! Find out how to keep your accounts safe on Twitter, and on any other website, with a few easy tips when you read more.


Don't be fooled by fake login screens: If you're already signed in to Twitter (or any other social networking site), you won't be asked to sign in again unless you've logged out. Even if the screen looks like the normal login, it probably isn't.
Don't be fooled by emails: I've been asked to reply to my "banking institution" with my account login information before. The email is formatted to look legit, but if you check the sender's address, most likely it's from a third-party account like Gmail, Yahoo, or MSN. Be diligent and never reply to emails with your bank logins or passwords and always check where they are coming from first! When in doubt, call instead.
Reset your passwords often: Too often, people have some pretty lame passwords, which allow their accounts to get hacked even without a phishing scam. Make sure your passwords are tough to guess, and try to change them every few months.
Get some password help: There are sites out there that can help you choose a hacker-proof password, but just don't go writing it down in an easy-to-find place soon after you settle on one!
Never forget your password again: You can use a device like Roboform to store your passwords digitally, then all you have to do is insert it into your computer's USB port for access. Just keep that sucker under lock and key!
Scammers aren't afraid to call you: As if I need to tell you this, but giving away your passwords, login information, or social security number to a call that was unsolicited by you (meaning they called you, not the other way around) is asking for trouble. If you are asked to give your info out to a person who contacted you, get their name and/or employee ID number and call them back through the main 1-800 line, just to be safe.