ASUS Transformer Book Trio
The ASUS Transformer Book Trio: a 3-in-1 Gadget Chameleon
Could the latest tablet-desktop-laptop offering from ASUS be the hardest working gadget in the biz? It very well may be. The ASUS Transformer Book Trio, unveiled at Computex 2013 in Taiwan on Monday, is a 3-in-1 device that can run, not one, but two different operating systems.
No transfiguration spells necessary: the 11.6-inch Transformer Book Trio can switch between Android tablet and Windows 8 desktop PC environments seamlessly, offering mobile mavens access to apps on both platforms.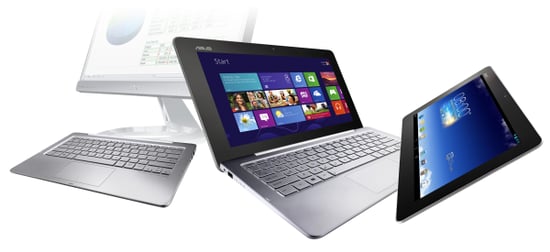 Multifunction devices are not new — Intel has been working on ultrabook-tablet hybrids for a while — but the concept of a multi-platform hybrid device is.
Windows 8 was specifically designed to take users from tablet to desktop and back again, but with just over 50,000 apps in the Windows Store, the platform is certainly no match for the Google Play Store, which boasts over 700,000 apps. One device that can run both systems is ideal for the user who needs a desktop environment for more processor-intensive applications and a touchscreen environment that's more conducive to mobile apps.
The Transformer Book Trio features a detachable display that switches the device between tablet and laptop modes. The touch-enabled tablet has a 2.0 GHz Intel Atom processor, 64GB of local storage, and a 1920 x 1090 full HD display. Running on Android, the Transformer can last up to 15 hours on one charge.
Get the Transformer's specs after the break.
There's also a PC station dock with its own Intel Core i7 processor, keyboard, and 750GB hard drive. The Transformer can connect to the desktop dock or an external monitor to run Windows 8 for desktop.
Pricing and availability haven't been announced yet, but before you decided to pull the trigger on ASUS' Transformer Book Trio, let us know what you think of the metamorphosing gadget chameleon in the comments. Would you replace your laptop, desktop PC, and tablet with one device?