Adapter Limits Your TV Volume For Loud Commercials
Volume Control Adapter: Love It or Leave It?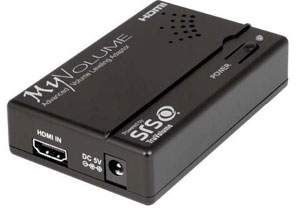 I'm all for gadgets that facilitate lifestyle improvements, but I'm not so sure this one falls into the category of "worth it." The SRS Labs MyVolume adapter is a small device that plugs into your cable box meant to regulate your TV's volume. The premise is fairly simple, but the technology is advanced; basically everything on your TV — from prime-time programs to commercials — will be leveled out to the same volume.
At first read, this sounds like a great device to deal with loud commercials but . . . isn't that what a remote control is for? In my opinion, the mute or volume buttons work just fine for volume control — this little device will run you $99! There's still no word on when a new bill regulating commercial volume will be put into effect, but I'd sooner hit "mute" than shell out more cash. What do you think? Is it worth it?