Adjust Your Mac's Volume More Precisely
Quick Geek Tip: Adjust Your Mac's Volume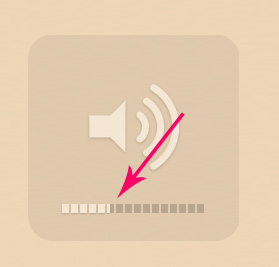 A friend just shared an awesome keyboard shortcut that allows you to adjust the volume on your Mac, making the sound level precisely as you like it. Hitting the volume control buttons on the keyboard gives you 16 levels of volume, from completely silent to impossible-to-listen-with-headphones loud. But for even more control, hold down the option + shift keys while you press the volume buttons. This turns each of the 16 volume levels into four more levels, for a total of 64 different levels of volume and maximum control over your Mac's sound.
Learn more after the jump.
If you're listening to music with headphones, using this additional control isn't as noticeable (unless, of course, you're rocking a pair of DJ-quality headphones like those Beats I love so much), but after attaching external speakers to my computer, I noticed the difference immediately. It creates more of a seamless increase and decrease in volume, similar to how turning a volume dial sounds.