Adobe Creative Cloud Reviews
Adobe Creative Cloud: The Pros and Cons
Adobe's head will be in the clouds from here on out. The maker of Photoshop, Illustrator, and other digital creation software pushed major updates today to Creative Cloud, a new controversial subscription-based model for its most popular products. At the Adobe MAX conference in May, the company announced that it was taking its entire suite to the cloud to prevent software piracy and provide updates over the air.
The new model also establishes a more stable revenue stream for the company because as it turns out, convincing users to pay for expensive upgrades every few years is difficult. Traditional desktop versions of Adobe programs, like Photoshop, can run upwards of $700 a piece. Will the digital artist community be willing to fork over $20 or $50 per month, instead of a one-time fee, for the same tools in a new web-ready format?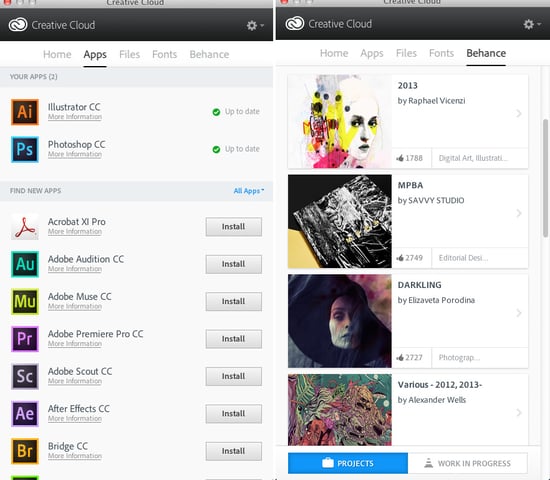 Photoshop, Illustrator, InDesign, Dreamweaver, After Effects, Audition, Premiere Pro, and a host of other Adobe Creative Suite tools are all getting the cloud treatment. Creative Cloud offers automatic software updates, along with additional perks like 20GB of cloud storage, workspace syncing between devices, the Adobe Kuler app, and integration with the design showcase network, Behance, which Adobe acquired in December.
But are all the bells and whistles included with Adobe CC worth it? Or is it time to switch to an alternative like Final Cut Pro or Acorn? We weigh the pros and cons after the break.
Pros
Get the newest features, without having to pay for expensive upgrades.
Piece of mind that your work is saved with 20GB in the cloud.
Behance Prosite is included, which allows you to publish a portfolio of your work on your own URL.
Send work in progress straight to Behance from Adobe.
Workspaces, brushes, etc. are synced across all devices. Working is more flexible now with mobile apps.
Over 200 tutorials from Creative Cloud Learn.
Digital Publishing Suite helps you create iPad apps without writing a line of code.
New Photoshop feature that automatically resizes image assets for the web, to create responsive layouts fast.
If you're a student, current Creative Suite 6 owner, or only need one Adobe app, then it's actually affordable at $20/month ($240/year).
The Cons
It's more expensive in the long run. Professional designers and photographers will need the software for years to come, and the full access package costs $50 per month ($600/year).
The Adobe CC initiative means that the Creative Suite software will no longer be updated. Creative Suite 6 will be sold alongside Creative Cloud, but once CS6 becomes outdated, Adobe customers will be forced to subscribe to CC.
What if Adobe's servers crash? You'll still need to back up your work.
A reliable Internet connection is necessary, since users need to verify their Adobe ID at least once a month, so you won't be able to go off the grid for an extended period.
Prices may increase in the future, and may be too expensive for freelancers.
Since Adobe files are a design standard, it's hard to move away from the ecosystem unless everyone else does.
So, what's your verdict? Yay or nay on Adobe taking their programs to the cloud?