Adobe Responds to Apple's Position on Flash
Adobe Responds to Apple With Peace, Love, Etc.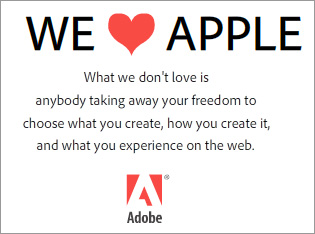 Two weeks after Steve Jobs posted an open letter to Adobe detailing his issues with Flash, Adobe has responded with a series of ads, both online and in print. The advertisements are running on the New York Times website and in a full-page ad in The Washington Post. The online ads (built in Flash, natch) declare, "We <3 Flash, We <3 Apple," and link to a page detailing its position on the Apple vs. Flash situation.
Tech feuds tend to fascinate me, and this latest one is no exception. I haven't chosen a side in this debate, but both do make valid points. At any rate, I find it interesting that Adobe chose to fire back with a relatively nice campaign, including this letter from Adobe's founders.