An Adventure in Space and Time Air Date Trailer
An Adventure in Space and Time: A Can't-Miss Whovian Film
Big things are happening in November for Doctor Who fans. The buzzy 50th anniversary episode airs Saturday, Nov. 23, and BBC America is planning a whole week of TV festivities leading up to the big day. On Nov. 22 there will be a jump back in time (aboard a TARDIS, no doubt) for An Adventure in Space and Time, a docudrama looking at the cast and crew behind the very first season of Doctor Who in 1963.
We spoke to the film's writer (and Sherlock star) Mark Gatiss and actor David Bradley, who plays William Hartnell, the first actor to ever portray a Time Lord, at this year's Comic-Con on why even the newest of Whovians won't want to miss this origin story. With just over a week until its debut and the program marking its public premiere this week, we break down below why you need to set the DVR now.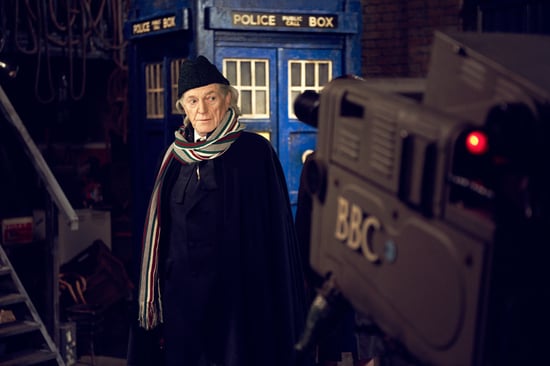 Discover the Doctor's Manic Early Days
The Doctor now is sometimes considered rather silly. He's got his dark side of meeting monsters face-on around the universe, but it's balanced with his Time Lord form being just awkward in life with humans. The first Doctor, William Hartnell, had no mythology to base his portrayal, not knowing whether to be madcap or serious, fearsome or lovable.
According to Bradley, the show had a hectic schedule, and Hartnell "was under a lot of pressure because he was virtually doing live TV, and learning reams of dialogue every week for what was it, three or four years? Under the pressure of that, I'm looking at the old footage now, and I'm very impressed with the kind of calmness he had. The performances are so relaxed."
A subdued Doctor?!
Meet the Woman Behind Who
Waris Hussein, as played by Sacha Dhawan, and Verity Lambert, as played by Jessica Raine.
When the 12th Doctor was chosen earlier this year, it was hotly debated whether the character would finally be played by a woman. After all, the show's canon allows for the Time Lord to change genders. While on screen Doctor Who actresses have been designated as the companion character throughout the show's 50 years, behind the scenes it was a woman who shepherded the quirky sci-fi program from concept to BBC hit.
Verity Lambert (played by Jessica Raine), who as a first-time producer, led production of Doctor Who in 1963. As Gatiss explained, she was "a real force of nature. I hope we did her justice, but I know what she would say, 'I've got to produce it, darling!'" The film, Bradley said, portrays how she, along with director Waris Hussein, believed in the show when executives looked like they wanted to cut it. "She kept pushing it, even when it was nearly pulled and the BBC said, 'Kill it! Kill Doctor Who!'"
In 2002, Lambert received awarded the OBE, officer of the order of the British empire, for her contributions to television.
David. Bradley.
Modern audiences may recognize David Bradley, who's been acting since the early 1970s, as Argus Filch from the Harry Potter movie series; heartbreakingly, as that dastardly Walder Frey in Game of Thrones; and Basil in The World's End. The man's a legend whose acting chops can take on a role with such a cult following, yet within an incarnation that many fans don't know. Bradley knows what a big role social media has had in elevating Doctor Who beyond the UK in recent years.
My daughters sent me a tweet — I don't tweet on Twitter or anything like that — but she sent me all these really positive reactions from Who fans. [Saying] the perfect casting and all that, so you get a feeling of good will generally towards the whole project.
Watch Mark Gatiss and David Bradley discuss the film in our interview.