It's tough to pin down just one reason why Cartoon Network's Adventure Time has captivated such a large audience. The coming-of-age animated series, now in its fifth season, was nominated for an Emmy this week (in the outstanding short-format animated program category) — acclaim that may be due, in part, to the show's tremendous voice talent, like Jeremy Shada, who plays protagonist Finn the human, and Tom Kenny, who plays the antagonist Ice King.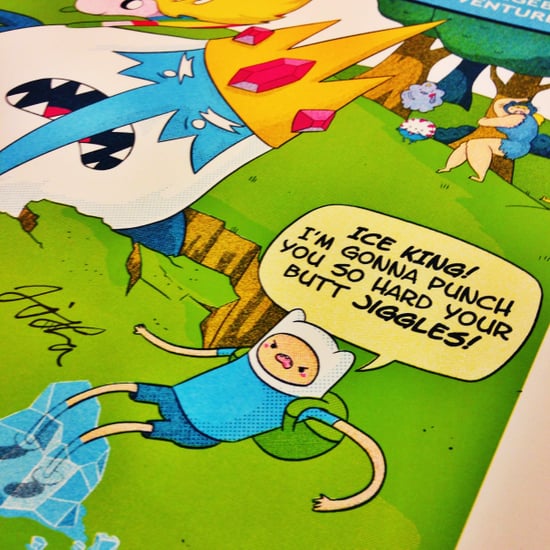 The combination of sharp humor and fantastical adventures makes Adventure Time one of the most infectious shows on TV. For curious fans and newbies alike, what are the all-time best episodes? We went straight to the source and asked the people who know the show the best: Jeremy and Tom. Finn and the Ice King temporarily put aside their differences and sat down with us before the Adventure Time Comic-Con panel to discuss their top picks.
What are your all-time favorite episodes?
Jeremy Shada (Finn) — "The first Flame Princess episode, which I think is called 'Incendium' [season three, episode 26]. I love the Flame King Keith David. He has this great baritone voice that's just so cool." Tom also chimed in: "He has that voice that's like, that's his one voice, his real voice . . . but you don't need anything else! He'll have more work than he can ever handle."
Tom Kenny (Ice King) — "I tend to like Fionna and Cake episodes, and the Marceline and Ice King flashbacks. The ones where they're wandering around this postapocalyptic world. They're fun to act because it's different than what you get to do on any other show. It's this doomed relationship with a girl in a bombed-out world. It's like, 'Wow! I never get to do stuff like this. This is cool!'"
Let us know which episodes are your favorite, and see Tom and Jeremy geeking out with us after the break.
Photo: Nicole Nguyen