Adventure Time Leggings
The Latest in Geeky Leggings? Adventure Time, of Course
The latest accessory from Cartoon Network's cult comedy Adventure Time was made for your legs. WeLoveFine.com, a geek gear site "for fans, by fans," has new exclusive leggings featuring the show's silliest characters.
Printed stretchable pants are something of a geek fashion trend — Black Milk Clothing introduced Tetris Leggings last year, and over 80 percent of our readers said they would rock the retro gaming tights.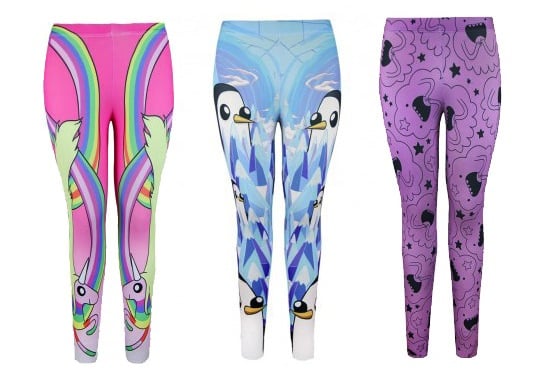 Would you add these Adventure Time leggings to your geekwear collection?
Lady Rainicorn ($27) — Princess Bubblegum's trusty steed and Jake's most loving girlfriend makes a mesmerizing appearance on these fabulous leggings.
Gunter Icecap ($27) — The Ice King's most loyal accomplice is pictured here in his/her natural habitat.
LSP Star Print ($27) — The floating Lumpy Space Princess added "Oh my glob!" to the English lexicon.
Let us know if these tights will complete your Adventure Time cosplay for this year's Comic-Con or if you're going to politely pass on the stretchable, geeky legwear.
For Finn and Jake superfans, more mathematically delicious Adventure Time goodies await.