Shmow-zow! The second Adventure Time title is nearly ready for the Nintendo 3DS, and the first screenshots of the new game have finally been revealed. Adventure Time: Explore the Dungeon Because I DON'T KNOW! is up for preorder and ships on Nov. 19 for the 3DS, PlayStation 3, and Wii U.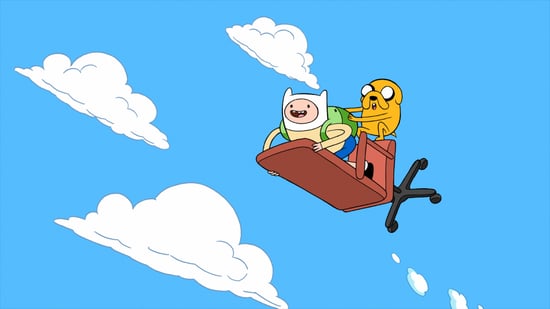 In the 3DS game, players will be guided in their second screen by none other than BMO, the very adorable, very weird living video game console friend of Jake and Finn. Princess Bubblegum has called upon the dog and human duo to uncover why kidnapping and thievery are plaguing Candy Kingdom.
As Finn, Jake, Marceline, Cinnamon Bun, and many more Adventure Time characters, players will navigate the home of the darkest monsters and criminals in all of the kingdom: the Secret Royal Dungeon. There are over 100 floors filled with enemies with which you will need to battle with a new arsenal of weapons like Hero's Gauntlet, Kitten Gun, Sack of Butter, and more. Pick up Equip Tokens along the way for ability boosts, and keep your eyes peeled for Zeldron's Armor, which halves any damage taken.
Adventure Time: Explore the Dungeon Because I DON'T KNOW!, which was developed by WayForward and series creator Pendleton Ward, features the voices you know and love from the show. It's a must-have gift for fans of the Land of Ooo! Watch this video interview with Jeremy Shada (voice of Finn), John DiMaggio (voice of Jake), and more for a gameplay preview.