Airplane-Mode Activities For Your iPhone
8 "Airplane Mode" Adventures For When WiFi's a No-Go
"Airplane mode" could be the modern synonym for "boredom," as it leaves tech addicts Internet-less when soaring the skies. When a flight's lack of WiFi keeps you from refreshing Instagram, checking Facebook, or catching up on email, have no fear; as long as a smartphone is handy with full battery life, the entertainment and productivity options are endless. Read this list to get familiar with the ways to stay entertained in flight, even in airplane mode.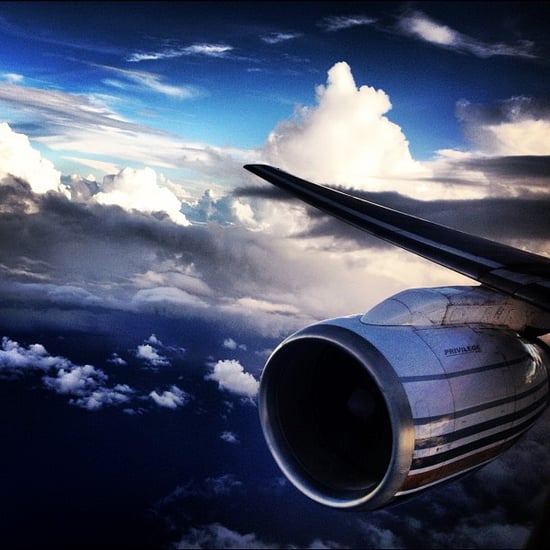 Rediscover classic tunes: It's so easy to get into the habit of only listening to the "recently added" playlist that old favorites often go forgotten; use flight time to rediscover songs from yesteryear. Create a playlist during your flight that combines classics with current hits for a fresh array of music when you land.
Deep read: Before taking to the skies, download a few good reads and stay occupied for hours. Just make sure the book or magazine is completely downloaded; you wouldn't want to miss out on a good ending.
TV catch-up: Long flights are a great way to catch up on seasons of your favorite TV shows or finally watch those new, buzzed-about programs. Before you go, download your shows with iTunes or a preferred media service and get viewing from 35,000 feet!
Picture-perfect organization: Like anyone who uses a smartphone as their primary camera, you probably have a ton of pictures sitting forgotten in a mobile photo library. Take the time to look through old photos, edit and organize them into albums, and maybe even delete a few of those not-so-glamorous shots.
Planning ahead: Without the distraction of calls, texts, and social media, use this "quiet time" to organize and plan your upcoming schedule. Mark events you may have forgotten, and log all those important dates (ahh-hem, birthdays) that are easily forgotten.
Contact clean-out: It's time to find out who is really living in your phone. Many contacts, like the Thai takeout from an old neighborhood, you no longer need, so lighten up and do a little editing. While you're at it, add in last names and delete repeat entries.
Go for goals: Open up your notes, and start setting goals — for the trip and for life. A phone is a great place to put down everything you want to remember, since it's always on hand. When you land, synch the list to an app like Evernote to stay accountable to yourself on all digital fronts.
Game time: While you can't play Words With Friends in the air, you can improve your score and reach new levels on other favorite games. Finally, an excuse to lose yourself in the gaming spirit.
Source: Instagram user isabelitaworld