Airport Info App
GateGuru Is the Ultimate Airport Sherpa — Don't Travel Without It
If, like George Clooney, you spend lots of time up in the air, then you are very familiar with the inevitability of acts of mother nature, delays, cancellations, and missed connections. Biding time in an airport certainly isn't glamorous, but GateGuru (free), an app for iOS, Android, and Windows Phone, makes it all a little easier on your weary traveling soul.
The airport information and flight status mobile guide — which was recently revamped with a snazzy new interface —automatically lists info about an airport's weather, amenities, and maps once you input your itinerary.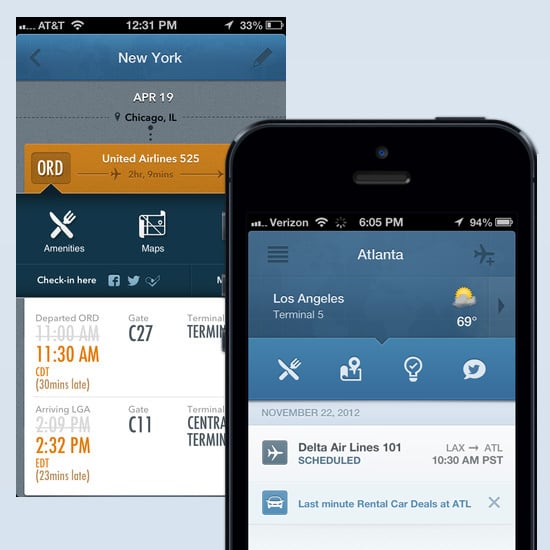 Submitting an itinerary is easy too. Just email it to plans@gateguruapp.com or connect your account to Kayak or Tripit, and the app will fill in the blanks for you. GateGuru is loaded with essential details about your day of travel: estimated security checkpoint wait times, tips to help navigate puzzling terminals, and real-time flight info. Plus, GateGuru now lets you book last-minute car rentals right from your phone.
For frequent fliers, there's a fun way to track your mileage with travel stats, a log of how many airports you've visited, how much time you've spent waiting for security, and more. This app helps make a long day of travel go more smoothly, especially if you've got multiple connections. Travel advisory: don't pack your bags without it.