Alan Wake Review
Alan Wake Review: You May Want to Leave the Lights On
It's not often that I'm genuinely frightened when I play a video game. Bioshock taught me a thing or two about expecting the unexpected around every corner, while the Resident Evil franchise just creeps me out. But playing Alan Wake is like mashing up the cool episodic layout of 2008's Alone in the Dark with the sheer horror and suspense of Silent Hill. The number of times I nearly jumped out of my skin as if I were really involved in this nightmare were too many to count, but it was totally awesome nonetheless. There were a few drawbacks to Alan Wake's predicament, but when looking at the game as a whole, it lends a fresh take to a quest we've seen a hundred times: save the girl.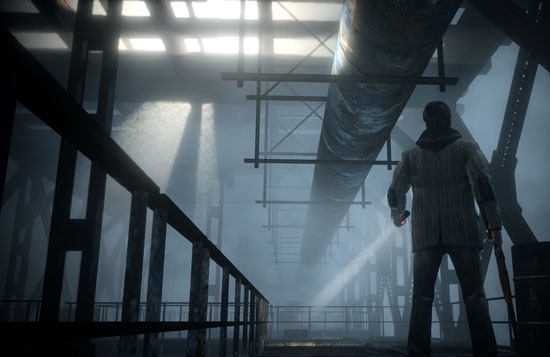 Alan Wake is a fiction writer who takes off to a secluded, sleepy Pacific Northwestern town called Bright Falls to get away from the demands of his hectic life, and hopefully blast through his nagging writer's block. But things quickly turn sour when his wife goes missing, and he is questioned by the police. There are some seriously dark forces at work against Alan, and he has to use all of his horror-writing skills to find his beloved wife. It's a great setup, and it only gets creepier from there.
To find out more about Alan Wake, and what I think of the game when you read more.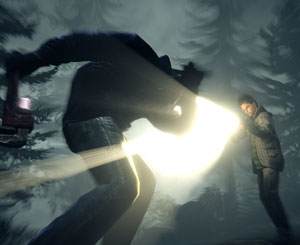 Using only a flashlight and firearms to battle the dark forces, Alan must make his way through the town of Bright Falls, the surrounding forest, farms, and back again, collecting clues to solve the mystery. Finding a streetlight or flood lamp will be your saving grace, as "the darkness" can't harm you while you're surrounded by light. Adding another layer of awesome to the game is the interactive radios and TVs that are placed throughout different locations that really bring Bright Falls to life and help you out along the way.
For me, the best part about Alan Wake is the layout — there are six "episodes" in the game, which are all self-contained sections of the big story. Each episode starts with a recap about what happened last time, and ends with a cliffhanger, which makes this game easy to play in smaller chunks; although you may have a hard time actually walking away from it. True story: I confused the game with a TV show at one point when talking about it with a co-worker. Getting emotionally involved with the characters and story is something that's usually reserved for your hour-long weekly favorites, not video games, but Alan Wake seems to surpass that barrier early on. It's definitely an engrossing thriller, one that I was both scared of, and addicted to at the same time.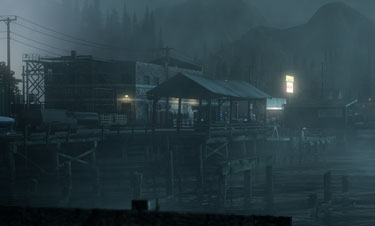 I mentioned downsides before, and here they are: I wish I could have learned more about Alan's wife. For being such an integral part of the story, I didn't know much about her, or her and Alan's relationship. Also, the levels were a bit repetitive. It was creepy, and scary, and all that jazz, but when you get down to it, each level is like a cookie-cutter image of the last, with some harder-to-kill bad guys in your way. That said, it's really the innovative storytelling that hooks you in, and keeps you playing until the last episode ends.
Alan Wake hits stores on May 18 for $60 on your Xbox 360 consoles.