Amazon Art Store
Deep in the Amazon, Discover Original Works of Art
Amazon first revolutionized the way books were sold, then quickly expanded into everything from electronics to beauty to pet supplies — everything except fine art. Shopping for original works of art is an investment and an extremely personal endeavor. Amazon is hoping to digitize that experience with today's launch of Amazon Art, an online marketplace for fine art in classic mediums like painting, drawing, photography, and printmaking.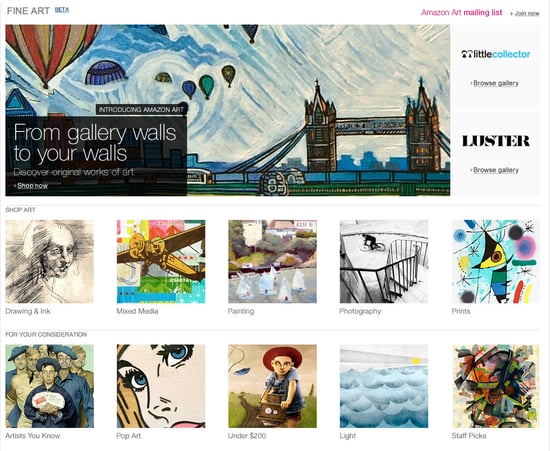 Over 4,500 artists and 40,000 pieces from galleries across the US, the UK, the Netherlands, and Canada are already listed on the site. Amazon Art acts as a broker of sorts, allowing customers to purchase works directly from gallery partners such as Paddle8, Abmeyer + Wood, Luster, and Little Collector.
There's a wide range of offerings on the site, from pieces priced at $200 to works that cost well over $10,000. Norman Rockwell's "Willie Gillis: Package from Home" is on sale for $4.85 million, and — because this is Amazon — the classic painting ships free.
Amazon Art's landing page acts as a guide, categorizing pieces by medium, genre, and gallery. If you're looking for a human touch, there are staff-curated featured picks as well. For shoppers with specific price points, there's an under-$200 gallery with more affordable artwork.
On the individual art listing, read more information about the artist and the piece, see more works from the artist, and check out other offerings from the gallery. Customers can also inspect the piece close-up and preview it in a real room setting.
Poke around Amazon's new foray into fine art, and let us know if something special catches your eye. If Amazon doesn't have what you're looking for, head to POPSUGAR Home for the best online sources for affordable art.