Amazon Cloud Player Reviews
Amazon Launches Cloud Drive and Cloud Player: First Impressions
We've been waiting for Apple and Google to launch cloud music services for a while now, but Amazon beat them both to the punch last night with the launch of Amazon Cloud Drive and Cloud Player — an online storage system for your music, movies, photos, and documents.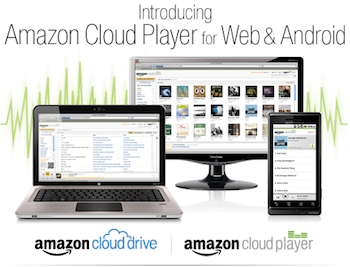 Coming with 5GB of free storage, you can upgrade for $1 per GB ($20 for 20GB a year), but Amazon is offering a pretty sweet deal for the remainder of the year — buy an MP3 album on Amazon.com and get upgraded to 20GB of storage for a year. Additionally, if you buy any music from Amazon, you can have it automatically saved to the Cloud Drive for free. This is super appealing, and could potentially have me shopping at Amazon for music more often than iTunes.
More than just a web interface, Cloud Player also works in conjunction with a free Android app, so you can stream your music from any Android device.
So how does the Cloud Player work? Find out, along with my first impressions after the break
After signing into your Amazon account, you can launch the Cloud Drive interface, where you'll be able to search and store music from your computer and iTunes, as well as any other files you want to store. Uploading is simple and straightforward: just select the files you want and upload. It's that easy. Plus, you can organize in playlists so you can jam to your favorite songs without any stops or pauses.
After you've uploaded all your files (which can take a while if you have a large library — 16 songs took about two to three minutes), you can play them via the Cloud Player, which launches right in the same screen. It's smooth sailing from there. I didn't experience any chugging, or buffering, even when skipping around to different points in the song.
Add in the Android App, which you can download for free and get access to all of your stored music and playlists, and Amazon has pretty much left its competitors in the dust. This is especially great for music maniacs who have huge libraries, since they can get all of their tunes at their fingertips without using any of their smartphones' on-board storage.
Have you tried out Amazon's Cloud Player on the web and Android yet? What did you think?