Amazon Prime Members Free Movie Streaming
Amazon Adds Free Movie and TV Streaming to Prime Membership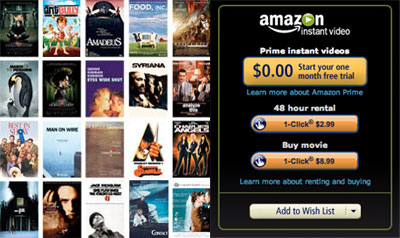 We first heard about the possibility of Amazon Prime movie streaming last month, and this morning, Amazon officially announced the ability for Amazon Prime members to stream over 5,000 movie and TV titles to their computers, Internet-connected TVs, as well as Blu-ray players and set-top systems.
The service comes at no additional cost, which makes the $79 a year Amazon Prime membership well worth it — not only do you get free two-day shipping on Prime-eligible items through the online store, but now you can theoretically cut out the $96 a year it costs for a Netflix subscription from your budget.
How do Prime members stream movies and TV shows? Find out, and get the details on which devices are compatible, as well as a sweet deal you can take advantage of now, after the jump.
It's pretty simple — Prime members can browse through the "Prime Instant Video" category for easy selection, while non-Prime members can still download and stream through the "Streaming Video and TV" category. Devices compatible with streaming these videos include TiVo, Logitech Revue, Roku, and Google TV, while there's a whole host of Internet-connected TVs that can stream directly from Amazon.
Good news for non-Prime members: you can sign up for a free one-month trial and reap the benefits of free, fast shipping and streaming titles now. I've been a Prime member for over a year, and if you're a frequent online shopper and movie watcher, I can tell you definitively that the $79 out of pocket price is totally worth it.