Amazon and AT&T Smartphones on Sale For a Penny
Weekend Deals: Amazon Selling Phones For a Penny
Looking for a great deal on a new phone? You're in luck — Amazon Wireless has put a ton of new (and some not-so-new) AT&T phones on sale for — wait for it — a penny.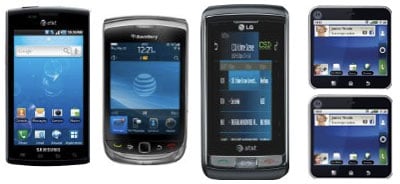 That's right, if you're looking for a Windows Phone 7 device, a BlackBerry, or even a sweet little square phone that was all the rage this Summer, then head on over to Amazon's wireless page to pick one up. The sale ends Monday, Nov. 15, so you'd better hurry. As you may have expected, to get that amazing price you'll need to sign a two-year contract with AT&T.
Want some tips on which ones to grab? Then keep reading.
These awesome phones (plus many more) are all up for grabs now. Deciding is going to be tough.