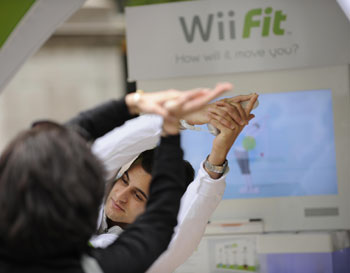 We've proven to ourselves that the Wii Fit can help you shed pounds, but according to the American Heart Association, the gaming console can be good for your health in more ways than one. Both the American Heart Association and Nintendo announced their partnership today in NYC, which will bring about a new AHA-branded Wii console box, and an endorsement for Wii Fit, Wii Fit Plus, and Wii Sports Resort (coming bundled with the new black Wii), which enhance the active play initiative founded by the Heart Association.
According to the AHA, the Wii console promotes movement and activity among kids and adults alike — 60 minutes of activity a day is recommended — which makes this partnership kind of a no-brainer. Exercise and gaming? Everyone can get in on that, right? You'll begin seeing the AHA label on the console's box, and new products focusing on health will likely be released in the near future.
Have you given up your Wii Fit, or are you still keeping active with it?