Analog GIF Player
Whoa! The Giphoscope Turns GIFs Into Real-Life Art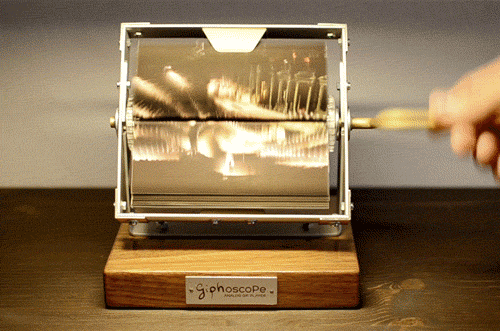 We dare you to find someone who doesn't like GIFs. What if you could take a GIF from the web and turn it into a tangible gift? Thanks to a new analog GIF player called the Giphoscope, that scenario is totally possible. With the Giphoscope, one animated GIF becomes a real, moving piece of art at the turn of the crank.
It's entirely handmade in Italy with careful consideration to things like type of aluminum and wood color. How much does it cost, you ask? Around $403. Sure, it's on the expensive side, but it's just so cool.
If it's totally out of your price range, though, don't despair! We found a similar, way more affordable version.
See the affordable version after the jump!
The Flipbook Machine from FlipBooKit will make you think of old movies in the same way as the Giphoscope. For $50, you get everything you need to build a your own mini flipbook machine — one preprinted scene and one set of blank cards.
Buy one or both — the hard choice will be whether you want to give 'em away or keep 'em for yourself.