Android 2.2 Apps Chrome to Phone and Voice Actions
Google Introduces Voice Actions and Chrome to Phone
Google gathered a small number of press today at its San Francisco HQ to introduce a few new mobile products aimed at making your life easier. First up is Voice Actions, which adds voice commands to a number of daily activities with a single tap.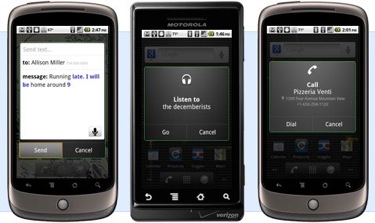 A few of the features that are now Voice Action capable include text messaging, alarms, notes, email, web browsing, calls, translate, directions, and finding music, which uses the power of Google Search, Maps, and the apps and contacts already stored on your phone. More than just voice commands, Voice Search allows you to speak as you normally would into your phone, enabling your Android device to do all the hard work for you — whether you want to navigate to a website, get directions to a nightclub, compose an email or text, or find new music on the web. Voice Actions is available today on Android 2.2 devices (in English only with more languages on the way) and can be searched in the Android Market under Voice Actions.
Check out the second product that was introduced today (along with demo videos for both features) after the jump.
The second feature introduced today is called Chrome to Phone, which allows you to bridge the gap between your desktop and mobile browsers.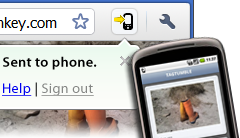 Just by installing the Chrome to Phone extension on your Chrome browser, and the Chrome to Phone app on your Android device, you'll be able to send links straight to your mobile browser to check out while you're on the go. This is especially helpful for driving directions, videos, and other important web pages that you may need to reference later. Chrome to Phone is also available for Android 2.2 devices in the Android Market and in the Chrome Extensions gallery.
Check out both the Voice Action and Chrome to Phone demos below.
Voice Action
Chrome to Phone