Android 2.3 Gingerbread Tips and Tricks
Tips and Tricks For Nexus S, Gingerbread Owners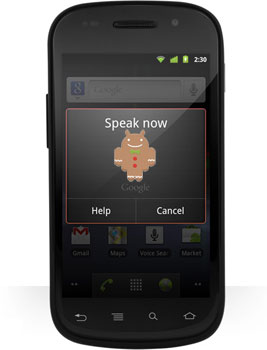 Jonathan Rosenberg, Senior Vice President of Product Management at Google, posted a list of his favorite tips and tricks for Android 2.3 Gingerbread yesterday. These tips (along with some great app suggestions), will come in handy for new Android and Nexus S owners this holiday, as well as other device users that will be upgrading to the Gingerbread OS.
Android has had quite the year, so I'm betting there's a lot of you who could benefit from these little-known, or handy tricks in 2011. Check out a few of them below, then head over to The Official Google Blog for more!
Voice actions — Tell your phone what to do by pressing the microphone icon next to the search box on the home screen, or long press the magnifying glass. You can tell it to send an email or text message ("send text to mom, see you for pizza at 7"), call someone ("call mom"), navigate somewhere ("navigate to pizza"), or listen to music ("listen to Mamma Mia").
Quick replace — Tap on any previously typed word, then tap on a suggestion to automatically replace it with the suggested word.
Look at Maps in 3D — With the latest release of Google Maps, you can now look at 3D maps. Tilt the map by sliding two fingers vertically up/down the screen, and rotate it by placing two fingers on the map and sliding in a circular motion, e.g., from 12 and six o'clock to three and nine o'clock.
See a few more after the break.
Find things you've downloaded from your browser — Your downloads are now neatly collected in a Downloads manager, which you can find in the apps drawer.
Turn a Gallery stack into a slideshow — In Gallery, when you are looking at a stack of photos, put two fingers on the stack and spread them. The stack spreads out and the pictures flow from one finger to the other, a moving slideshow that lets you see all of the photos.
Easy access to special characters (like numbers, punctuation) — Press and hold any key to go to the special character keyboard. You can also press and hold the "," key for an extensive punctuation keyboard.