Android Device Manager
It's Find My iPhone . . . For Androids!
It was right there — in a pocket, on the bedside table, by the keys — but that phone must have gotten up and walked away, because now it's gone. Until now, only iOS users had the ability to locate their devices and protect their data remotely, through the official Find My iPhone app (free). Last month, Google announced that it was finally bringing that feature to Android.
Like Find My iPhone, Android Device Manager, now available as an app and on the web, can find and wipe multiple lost devices, remotely lock the screen, and force the phone to ring.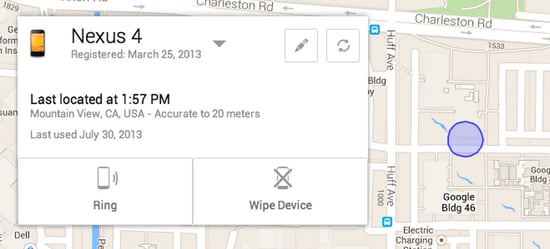 To enable Android Device Manager, open Google Settings from the apps menu, and tap Android Device Manager. Go to Google Settings > Location > Access Location to remotely locate the device. On the web, head to android.com/devicemanager, and sign in with Google credentials.

With Android Device Manager, users can force their phone to ring at maximum volume (even if the phone is set to silent) from an app or the web. The phone's location will also appear on a map in real time if the device is turned on and connected to the network. If the Android phone is truly out of your reach, then users can turn on the lock screen, change the lock screen's passcode, or completely wipe the device's data.
If a device is offline or powered off, however, Android Device Manager will not be able to communicate with the device until it is connected via data or WiFi. Selecting Erase in advance will wipe the device as soon as it's back online.
While Android Device Manager is an app that most hope to never use, a device locator for Android devices is long overdue. As someone who's had to remotely wipe a stolen device, the Android announcement is certainly welcome news.