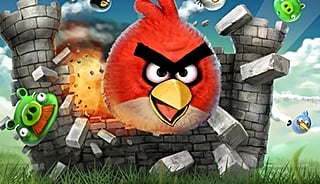 Angry Birds may be a popular way to pass the time, but it's definitely not always stress-free. Sometimes, the only one angrier than the birds themselves is someone stuck on a level in the game. But if you've got a dollar and an iPad, you can say goodbye to all that frustration with the Mighty Eagle, a pig-destroying behemoth that is now available as an in-app purchase on the iPad.
In addition to the cheat, the iPad update released yesterday features 15 new levels, new themes, support, and a golden egg reward. Unfortunately, iPhone and Android users will have to wait to try out all of these goodies: updates for both phones' apps won't be out until sometime later (ie, "soon" for iPhone and "next year" for Android, according to the Angry Birds Twitter account).
But what about you, iPad users? Will you pony up the $1 to buy a Mighty Eagle whenever those pigs can't seem to be destroyed, or will you keep trying without it?