Angry Birds Seasons Valentine's Day
Send an Angry Birds Valentine, Play Angry Birds Seasons Valentine's Day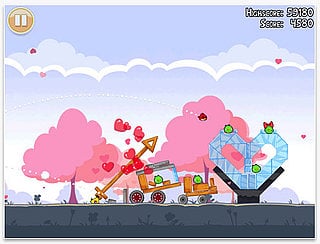 You love Angry Birds, so why not spread the joy to someone special? New Valentine's Day-themed levels are popping up as part of Angry Birds Seasons, an Angry Birds spinoff. And in an added feature, users are able to connect with Facebook to send Angry Birds-themed Valentines. Access these Valentines through the game or through the Facebook application.
Read more about the newest Angry Birds after the break.
The game was the most popular paid app from Apple's App Store in 2010, and 2011 promises continued success with a rumored TV series and plenty of Angry Birds-themed merch.
Fifteen levels of the game feature the usual challenges with three golden eggs. And special Bing integration adds in-game links to Bing web searches giving information and hints to complete the game. The Valentine's Day edition of Angry Birds Seasons, which costs $2, is available now for iPhone, iPad, Android, Palm, and Symbian.