When you really need to drive home your point, animated GIFs are just what the digital doctor ordered. Have a friend who complains a little too much? Tell 'em to deal with it. Roommates driving you crazy? Show them just how much.
GIFs fill in awkward gaps in electronic communication and express what mere words cannot. Since finding the right one is an art form, we've got two solid ways to get your Graphics Interchange Format on.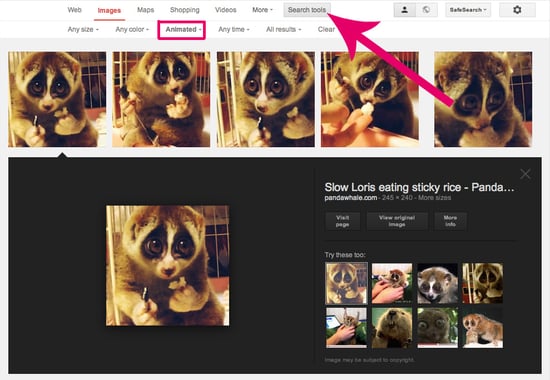 Google Image Search — The Googs added support for animated GIF search today. In Google Image search, click on "Search Tools" just below the search bar, and, under the "Any Type" drop-down menu, select "Animated." Clicking on any of the results will open a preview of the animated GIF without having to load a new page.
Giphy — This website is a dedicated search engine for GIFs. Type whatever you want into the large search bar at the top. As you type, Giphy will show you related searches and suggestions. Roll your mouse over the thumbnails to see the animation. Click through to share the GIF via Twitter, Tumblr, or Facebook, or grab an embed code.