Annalee Newitz From io9 Valetines Day Interview
Geeks We Love: Annalee Newitz of io9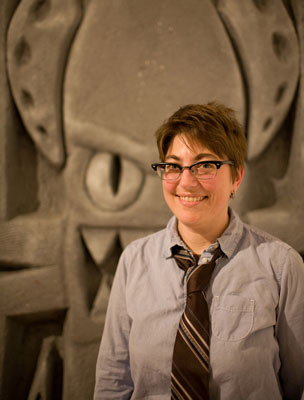 Continuing on with our Geeks We Love series, we take a turn from gadgets and come to a genre that is close to my own heart: sci-fi.
Resident io9 expert Annalee Newitz is the editor-in-chief of one of the most comprehensive sci-fi blogs around. But more than that, she's a huge sci-fi fan who grew up obsessing over everything from aliens to cell phones, which parlayed into a dream job of writing spectacular content every day for our enjoyment. She certainly knows her stuff, and although you may not see the connection right away, she can totally relate to you Twi-hards out there. No, really!
Have you always been a sci-fi addict? What other forms of geekery do you enjoy?
I've been obsessed with science fiction since the sixth grade, when I read Ray Bradbury's Martian Chronicles and thought it was the most mind-blowing thing ever. But I'm also a huge science and technology geek, so I'm always reading up on new discoveries in science journals and reading gadget blogs to find out about the new Android phone hotness.
Throughout pop culture history, geeks and nerds have always been portrayed as outcasts. With the popularity of tech, sci-fi, and geeky film stars, do you think that the tide is turning for geeks everywhere?
The tide has been turning for a long time. Geek chic was kind of a 1990s thing, and now geekiness has evolved into just another hipster style. You can go to the mall and there's always some "cool geek" store with weird t-shirts, cute hats that have ears on them, and collectible toys made by artists. It's hard to think of geeks as lame when they're inventing the gadgets and online social networks that all the popular kids are dying to use.
Find out what tech toys Annalee carries around in her bag, why she thinks the Twi-hard bashing should stop, and how chatting up a geek is easier than you think when you
.
Do you think technology is becoming too much of a distraction in our daily lives? Alternatively, how do you use tech to your advantage?
I use technology to do my job, to have fun, and (sometimes) to procrastinate! I'm not worried about tech being too much of a distraction - it's just another tool, and humans are tool-users. We can't help but obsess over our devices, whether those are flake knives or really awesome software-defined radios.
Favorite sci-fi series? Go!
Firefly, Battlestar Galactica miniseries, Doctor Who, Star Trek: The Next Generation, Max Headroom, The Middleman, Sarah Connor Chronicles, Fringe, Venture Bros, Twin Peaks, Buffy the Vampire Slayer, Supernatural, Torchwood, Lexx, True Blood, the list goes on and on . . .
How has sci-fi culture evolved over the past 10 years?
I think it has become more diverse. Relatively young subgenres like urban fantasy, paranormal romance, and steampunk have expanded the definition of science fiction. Meanwhile Syfy channel has acknowledged that the female audience is crucial to the genre, and recent box office studies have shown that women make up the majority audience for horror movies. So the genre looks very different than it did in 2000. Also, more amateurs are making science fiction movies and TV series, using video editing software and distributing via YouTube or other video-sharing sites. I'm tremendously excited to see new fans discovering the wonders of scifi, and then jumping into making some themselves.
What is your favorite geeky pick-up line?
The wonderful thing about geeks is that we don't use pick-up lines. We just start talking about whatever obsesses us and hope you'll get excited too.
Is your bag weighed down by gadgets, or are you do you travel light? Or, what gadget do you use the most?
Here is what weighs my backpack down right now: MacBook Air, G1 Android phone, a TV-B-Gone, a moleskine notebook for scribbling quick notes and ideas, and whatever book I'm currently reading (right now it's "Blackout," by Connie Willis, which is pretty heavy!). I use all these items a lot, though I probably take out the G1 the most often.
Are there any trends in sci-fi that you love/hate?
Favorite new trend: Kickass tomboys like Starbuck in Battlestar Galactica.
Hatiest new trend: Bashing the Twihards. Are they really all that much worse than Star Wars fans?