AnyClip Movie Scene Search
Website of the Day: AnyClip
There's nothing worse than a bad memory. For example, it's so frustrating when you remember the tune of a song, but can't remember the name. Thankfully, for those times you have apps like Shazam, which can tell you the name of a song just by humming a few bars. But what about when you remember a line from a movie, but can't recall the film title? Now, for those times there's AnyClip.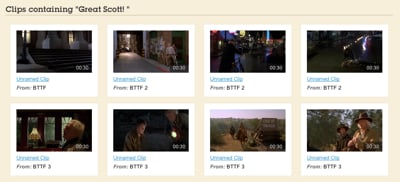 AnyClip has painstakingly searched the web for available movie clips and tagged them with actors, scene references, lines of dialogue, objects, and more, and makes them searchable from one big database (as opposed to searching YouTube for mashups and remixes). Find out more about it after the break.
Currently working directly with Universal Pictures, AnyClip is the first company to tag and catalog full-length feature films and make the clips (of over 5,000 titles) available for search. AnyClip is also tagging all the winning films from SXSW and could be partnering with some other big-time studios in the future. Embeddable clips are coming soon, but until then, AnyClip is a cool way to search for movie scenes when you need some reference, and could possibly help you win that big game of Scene It! you have planned with your pals.