Apple 2010 WWDC Trends and Observations
2010 WWDC Highlights: Trends and Observations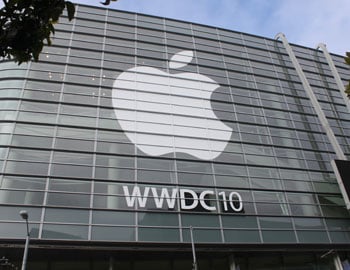 At last year's WWDC conference I was surrounded by belching guys and booth babes, but this year took a different turn. There were decidedly more women in the crowd, and zero scantily-clad booth babes — just tastefully dressed ladies that passed out fliers as keynote attendees filtered out of Moscone West.
Although the men were no more classy (I was nearly run over by an older gentleman to get a better seat), there were a few standout trends in the crowd. Check 'em out below.


iPads — Naturally, the Apple fans brought out all their gear for the keynote.
HTC EVO 4Gs — Although iPhones and iPads dominated the landscape, I saw quite a few non-Apple smartphones in the crowd.
To hear about my favorite trend at the WWDC keynote, just keep reading.
Vintage Apple Computer tees — Apple may be reaching for the future, but their fans are comfortable wearing the past. I spotted a number of vintage Apple Computer tees and polos throughout the day, including this rare Newton button-up, as well as the classic purple and mustard polo, and a rainbow Apple tee.