Apple Allows App Gifting in iTunes Store
Geek Tip: Gift Your Favorite Apps
Apple just made a new upgrade to iTunes yesterday, allowing you to gift an app the same way you can with audio and video. Apps make a great gift, especially if you know someone who incessantly uses their iPhone's camera — gift them a nice little camera pack — or has a bad habit of texting while driving (tisk, tisk — use ShoutOut instead).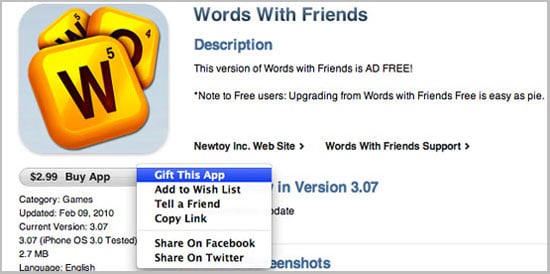 Find out how it works when you
.
You'll need to agree to the new terms of service for the iTunes store, but once you do, just select the "Gift This App" option from the pull-down menu, then enter in the recipient's name and email address. You can even add a message for a nice personal touch. Me? I'm gifting Words With Friends to a few pals that are too cheap to do it on their own. Have you heard how addicting this game is?