Apple Announces iOS 6 and Siri Updates at WWDC
How iOS 6 Will Change Your Mobile Experience
Available this fall (a full season away!), the free iOS 6 upgrade promises to shift the landscape for mobile devices. With all-new apps and enhanced features, the operating system offers a range of new possibilities for users. Wondering what all the fuss is about? Here's why iOS 6 will change your mobile experience: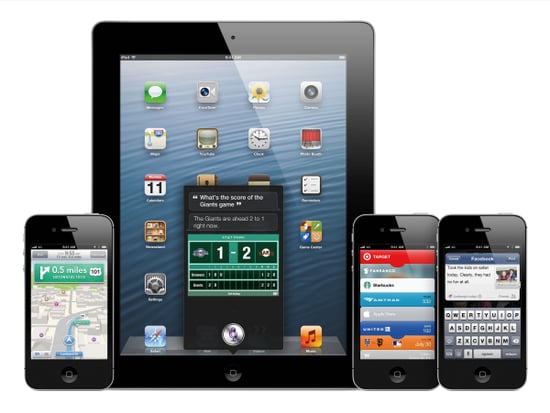 Maps, Maps, Maps — Replacing Google Maps, the new Apple-designed app is vector-based, which translates to more detailed graphics and text. The Flyover function allows for 3D views of major metro areas, and users will get visual and spoken navigation, plus real-time traffic updates.
Siri advancements — In iOS 6, Siri understands more languages, works in more countries, and can be used with the iPad 2 and newest iPad. As for social networking, Siri can also tweet and post Facebook updates.
FaceTime capabilities — No more hunting for WiFi! With the new operating system, FaceTime works over cellular networks, too, so that users can make calls from anywhere.
Do Not Disturb — All-new iPhone features allow you to instantly reply with a text or set a callback reminder whenever you decline an incoming call. Even cooler? You can turn on Do Not Disturb so that only approved contacts can appear on your phone for a set period of time.
Passbook — This is the go-to app for boarding passes, movie tickets, retail coupons, and loyalty cards. By scanning your device, you can check into a flight, get into a movie, or redeem your coupon. A fun feature: if you've already checked into your flight and the gate changes, then Passbook will alert you.
Facebook integration — With iOS 6, you'll be able to share photos on Facebook directly from Camera or Photos. Not only will Facebook events be integrated into Calendar, but you'll also stay totally up to date on all your Facebook friends' information: when a friend updates their profile information, the new number or email will automatically update in Contacts.