Apple Game Center For iOS 4.1
What Is Apple's Game Center?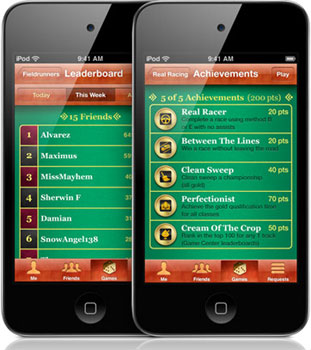 We briefly touched on Apple's new Game Center after last week's iPod presentation, but we were finally able to get a closer look at the feature coming with the new iOS 4.1 update on your iPhone and iPod Touch. What exactly is Game Center? Find out below!
What it is
Game Center is a new app that lets you get more socially involved in your gaming. Like a mobile version of Xbox Live, you can now rack up achievement points every time you game, play multiplayer titles with your old friends, and make new pals by "friending" new gamers.
Find out more (including which devices can support the Game Center) after the break.
Making friends
You can search for your friends via their email addresses, then get a game going over your WiFi or 3G connection!
Leaderboards
Every time you play a game, your score is accounted for on the Game Center leaderboards. Additionally, you can unlock achievements inside games and compete against your friends for bragging rights.
Auto-Match
If you're looking for a game, let Auto-Match find you an opponent. Just select Auto-Match, then the Game Center will pair you up with a pal that's looking to throw down, or match you with a complete stranger from somewhere in the world.
The Game Center will definitely kick your mobile gaming into overdrive, but unfortunately it seems that iPhone 3G owners, along with 1st generation iPod Touch owners are out of luck — the Game Center only works on iPhone 3GS, and iPod Touch 2nd gen models and above.