Apple Grand Central Store T-Shirt
Apple Fans Add Elusive Grand Central Gear to Wish List
You might think the biggest draw for Apple fans camping out for the latest company store opening is the privilege of being among the elite first people to set foot in the store, fresh with the smell of clean MacBooks and new employees so eager to help. But the major bragging right associated with an Apple opening is snagging the limited edition t-shirt handed out to the first thousand or so customers to enter the store.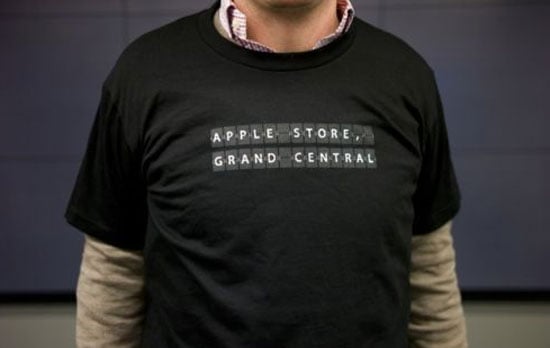 Last week's unveiling of the New York City Grand Central terminal store also showcased the free t-shirts with the store's location spelled out in graphic letters resembling the train station's arrivals board. Four thousand shirts were distributed to the Grand Central store's first customers. Just like their tech products, the shirts are carefully packaged into a white box fitting of the Apple logo despite its free contents.
As expected, those who scored the rare t-shirts after camping out in Grand Central are looking to cash in on the cult of Apple, listing the shirts on eBay, with current bids varying from $25-$385. Have you ever stood in line for an Apple store's grand opening? If so, tell us about your experience in the comments!
Photo Source: eBay user spictacular002