Apple Imposes Lifetime Limit on iPads
Is There a Lifetime Limit on iPads?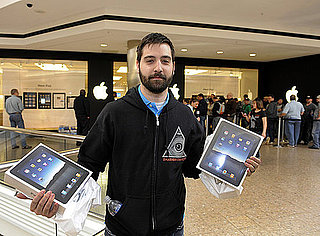 According to a few scattered reports across the country, Apple is turning away would-be iPad buyers, saying they have reached their "lifetime limit" for the amount of iPads they're able to purchase. Huh? According to one blogger who had been purchasing iPads for friends overseas (but not exceeding the two iPads per purchase limit), an Apple Store employee refused to sell him any more iPads because he had reached a limit. Because the international launch of the iPad was delayed, he offered to buy iPads for friends and ship them overseas, which in itself is not illegal. Find out more about the iPad max situation (and how many he bought to reach the limit) after the jump.
In total, he purchased five iPads to send to friends; upon trying to purchase a sixth, his purchase was flagged. The store employee was unable to give him any further information about why he was unable to purchase more. I understand why there would be a cap on purchases while the devices are in high demand, but a "lifetime limit"? It seems a bit extreme. Do you think it would put the same restriction on iPods (I've bought at least six of those in my lifetime already, and expect I'll pick up a few more, eventually)? What do you think — is Apple overreacting, or does it have a valid point?