Apple Mac Pro 2013
The Futuristic Mac Pro Gets an Official Release Month
After a peek at the professional-grade Mac Pro during WWDC in June and a dramatic teaser trailer, the glossy black cylinder is closer to availability for power users, as Apple said it would be available in Dec. 2013.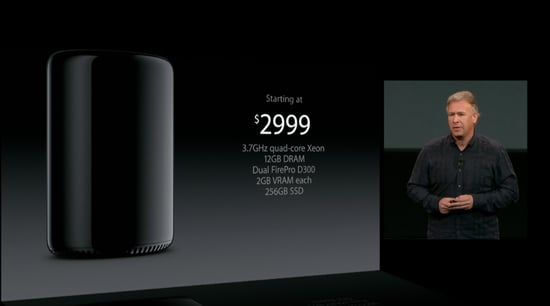 The Mac Pro is a completely redesigned computer for power users like video editors and multimedia artists. Gone is the rectangular, silver chassis, and in its place is a glossy black cylinder. Starting at $2999, the base model Mac Pro holds a 3.7GHz quad-core Intel Xeon processor, 12GB of RAM, dual AMD FirePro D300 graphics, and a 256GB solid state drive.
Apple describes the Mac Pro as "packed and built for expansion." It will be able to support up to three 4K displays, which as we saw at CES this year, is the resolution the tech world is moving towards.
A major feature of the Mac Pro isn't just what's inside the device power-wise, Apple moved production of the computer away from China and back to the US. Get another look at the Mac Pro after the jump.