Apple OS X Mountain Lion Features
The 6 Coolest Features in OS X Mountain Lion
Announced during Apple's June WWDC keynote, the latest version of OS X, Mountain Lion is available for download today for $20. The over 200 new features that make it easier than ever for users to sync content across their many Apple devices with the help of iCloud. Wondering whether it's worth the upgrade? Learn about six of the best new features in Mountain Lion: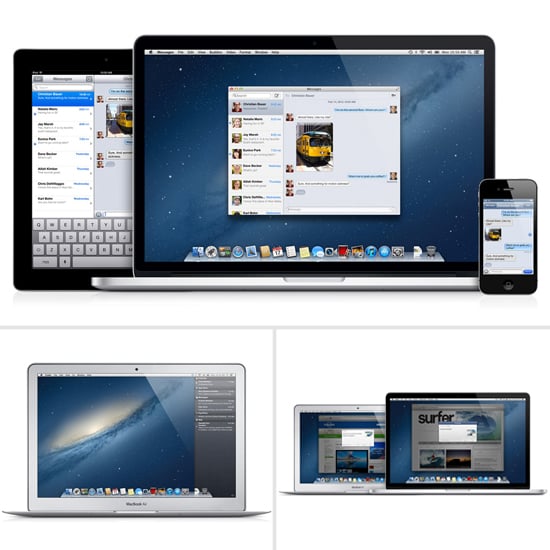 Safari — Redesigned to function more like Google's Chrome, Safari will have a combined search and URL box in Mountain Lion. Through TabView, the tabs fan out to let you quickly swipe through them. The speed has been improved too: Apple claims that Safari is now faster than competing browsers, including Chrome, Firefox, and Internet Explorer.
Dictation — Whether you're working in an Apple app or a third-party app, Dictation lets you talk to type anywhere in the system. In other words, you can respond to everything from tweets to emails simply by speaking.
Keep reading for more cool features in OS X Mountain Lion.
Power Nap — Not only does Power Nap conveniently update the system while it's asleep, but it does so without affecting the computer's battery life. It automatically refreshes Mail, Contacts, Calendar, Reminders, Notes, Photo Stream, and Documents in the Cloud, and it downloads software updates when the computer is plugged in.
Messages — Replacing iChat, the new Messages app carries iMessage into the Mac world. With it, you can send messages to anyone with an iPhone, iPad, iPod touch, or another Mac. You can include attachments — photos, HD video, documents — and the iMessages will appear on all your devices, so you can continue conversations from anywhere. Even better? Group messaging capabilities, plus delivery and read receipts.
Sharing — With system-wide Sharing, you sign in once to use third-party services like Facebook, Twitter, Flickr, and Vimeo. The Share button allows you to quickly share links, photos, or videos without switching apps.
Facebook integration — As part of an upcoming software update to Mountain Lion, Facebook integration will let you post photos, links, and comments directly from your apps. After signing in, Facebook friends will appear in your Contacts with their profile photos, your Facebook notifications will appear in the Notification Center, and you'll be able to update your status from within the Notification Center.
Do you plan to upgrade to Mountain Lion?