Apple Streaming Music From MobileMe
Apple Enables Music Streaming Through MobileMe iDisk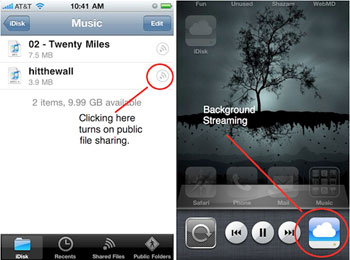 We all shed a tear when music-streaming service Lala went down, and have been waiting to see what Apple would do with the recently purchased company ever since. Rumors have been swirling that Apple would skip over music and head straight for video streaming, but now, evidence is surfacing that Apple is in fact, allowing music streaming through a back door feature that utilizes MobileMe's iDisk.
iDisk allows you to store files in MobileMe's cloud, then access and share them from any computer, iPad, or iPhone; this includes music files. Within the release notes of the latest iDisk release, Apple says you can even "Play audio from your iDisk while using another app." Multitasking and streaming at the same time? Color me happy. But there is a restriction. Find out what it is after the break.
It seems that you can only store up to 20GB of music files, but it's a nice feature for people who want their music with them wherever they go. Of course, you can just sync your iPhone and get all your music on your handset as well, but to each his own. If you want to get MobileMe for yourself and start utilizing this feature, it'll cost you $99 a year, but you can get a free 60-day trial to see if it's worth it.