Apple TV Pros and Cons, Sales Top 1 Million This Week
5 Reasons to Get an Apple TV (and 3 Reasons to Skip It)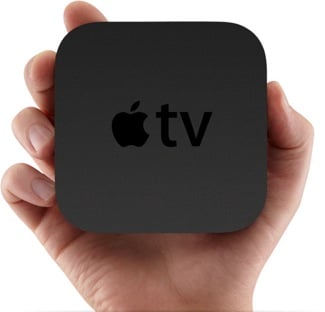 Apple introduced the second-generation Apple TV in September, and although this new device may not be a suitable replacement for your cable subscription, consumers are buying in droves — Apple announced this morning that Apple TV sales will top a million this week, likely being one of the hottest holiday gifts for movie and TV fans alike. I got some hands-on time with the set-top box back in September and came up with five solid reasons you'll want to get an Apple TV as a gift (or grab one for yourself), and three reasons you may want to skip it. Check out the pro and con list below!
Get It
It's tiny — You can fit this new Apple TV anywhere! It's a quarter of the size of the last Apple TV and comes in a nice charcoal color.
The price — It will only cost you $99 to bring this baby home, which is substantially less than the last Apple TV's price point of $229.
Easy setup — Just plug in your Apple TV and go! You can then connect to iTunes via your television and start watching flicks right away.
See the rest of my reasons you need a new Apple TV, and the three reasons to skip it, after the jump.
Seamless device connectivity — If you've purchased any music, TV shows, or movies on your computer, you'll be able to instantly stream them to your Apple TV, allowing you to watch them on a bigger screen. Plus, with the new Airplay feature, you can also stream movies and TV from your iPhone, iPad, and iPod Touch.

Cheap rentals — Since there's no storage to worry about on the new Apple TV, you can rent all the movies and shows you want on the cheap. HD TV shows start at just $1, while HD movies start at $4. You have 30 days to play your rented content, then 24 and 48 hours to finish your movies and TV episodes, respectively.
Skip It
Limited content — The new Apple TV will be a great alternative to cable . . . as soon as it gets more content partners. Right now, Apple TV can serve up shows from Fox and ABC, stream your Netflix queue, and rent new movies as they become available. As soon as more content partners jump aboard, I can see this new Apple TV becoming a tube-watcher's best friend.
Not full HD — Unfortunately, the rumors that this Apple TV will only play up to 720p were true. Comparing 720p to 1080p is like comparing the video quality on a Nintendo Wii to the PS3. PS3 will win every time!
Rent, not buy — Apple took a bit of a step back when it comes to renting vs. buying. The original Apple TV would allow you to rent or purchase TV and movies, but the second gen doesn't due to the idea that people don't want to worry about storage. The question is, why can't we purchase shows on the new Apple TV and store our content "in the cloud"? Is that the future of Apple TV?