Apple iOS 5 News and Features
6 New and Nifty Features of iOS 5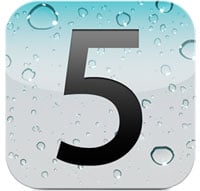 Alongside Apple's Tuesday unveiling of the iPhone 4S, the new mobile operating system iOS 5 was revealed, which adds 200 new features to compatible Apple devices. Many of the new additions will look familiar to Android users (like the Notification center) or could have been a download from the App Store. Apple's inclusion of the embedded features creates what it considers to be the "world's most advanced mobile operating system." The iOS 5 software will be available on Oct. 12 as a free software update for iPhone, iPad, and iPod touch.
What's so great about this new operating system? Here are six cool features that will make the upgrade worth your while.
iMessage — Integration of a messaging service in iOS 5 gives all users text message capabilities via WiFi or 3G. Whether you have an iPhone, iPad, or iPod Touch, you can now send unlimited text messages to other devices using iOS 5. It includes group messaging and automated synching across all your iOS devices. Hopefully this will be the end of pricey texting plans.
Notification Center — Android users are already familiar with a similar Notification Center feature, which sends all push notifications into one central location on your device. Any new notification appears as an animation at the top of the screen and can be swiped down for more details. Notification Center even shows up on the lock screen so you're always in the know.

Four more cool features of iOS 5 after the break.

Newsstand — Organize every digital magazine and newspaper app subscription in one place. Each new monthly, weekly, or daily issue is automatically delivered into the Newsstand waiting to be read.
Reminders — A reminders or notes app may not seem groundbreaking, but iOS 5's Reminders feature synchs between all iOS 5 devices and a Mac OS X computer. It's also location-based, meaning Reminders will alert you to a specific task when you reach a corresponding location. For example, it will tell you to pick up the rent check to mail when you have arrived home.
Cloud Synching — The OS update removes the need to ever plug a device into a computer to synch up downloads and apps. Photo editing is built in to the iOS 5 and all device back-up is courtesy of Apple's iCloud.
Twitter integration — Twitter is integrated systemwide within iOS 5. Send tweets directly from any app, like Safari, Photos, YouTube — everything, no need to open a Twitter client.
Which feature of iOS 5 is enticing you to upgrade on Oct. 12?